Hurricane Harvey: Taxpayer Resources
All Harris County Tax Office locations are opened for business except for the following, which are closed indefinitely:
Clay Road - 16715 Clay Rd
Cypresswood – 6831 Cypresswood Dr.

Automobile Services
Texas residents in counties impacted by Hurricane Harvey will not have to worry about vehicle titling and registration requirements for the next 45 days.

Click here to find Vehicle Registration Renewal Locations

On August 31, 2017, Governor Greg Abbott suspended certain statutes related to the enforcement of title and registration laws in the 58 counties included in the state's disaster declaration. For more information, visit http://www.txdmv.gov/harvey

Hotel Taxes and Other Comptroller Resources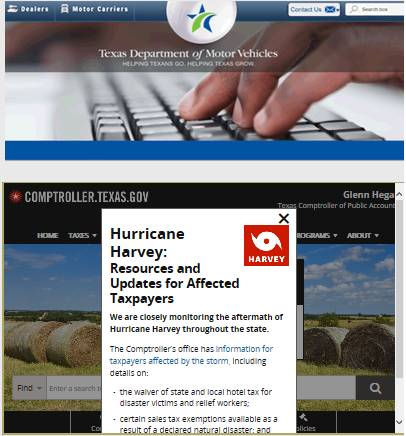 Special Inventory Taxes
+

Q. Are dealers who file Special Inventory Taxes allowed to waive penalties on statements and payments filed late due to Hurricane Harvey?

The dealer may apply for a waiver of the penalty if the disaster that made it effectively impossible to comply with the filing requirement and the dealer is otherwise in compliance with chapter 23.129 (b) of the Texas Property Code.

Q. How can a dealer who file Special Inventory Taxes apply for this waiver of penalties?

The dealer must apply for the waiver of penalties in writing to the chief appraiser or tax assessor-collector no later than the 30th day after the date the declaration or statement, as applicable, was required to be filed.
Click to complete and print the Application of Waiver of Special Inventory Tax Penalty from this website. Then mail to the address on the form.
Property Taxes
Q. Will my 2018 property taxes be affected by damage to my property due to Hurricane Harvey?

The Harris County Appraisal District (HCAD) appraises property every year on January 1. Any recent flood damage to your home that is not repaired by January 1, 2018, may be reflected in next year's value, which would subsequently affect your 2018 taxes.

Q. How do I report my property damage to ensure my property is properly appraised for 2018?

You can report property damage due to Hurricane Harvey to the Harris County Appraisal District (HCAD) by one of the following methods:

Call 713-812-5805 or email help@hcad.org and provide your:

Name
Address
Phone Number
Account number
the number of inches or feet of water you received

-or-

Download the upgraded HCAD app for free through the Google Play Store or the Apple App Store, to your iPhone 4 or an iPad 3 (or beyond).

The upgraded app additionally allows you to identify whether the damage was on the home or garage and provides an event damage report that lists options for the amount of water, an estimate of damage caused by a tornado or roof leaks and a section for fire damage. See www.hcad.org for additional information.

Q. Where can I get information about Disaster Reappraisals?

The Harris County Appraisal District handles property reappraisals due to disaster. Click here for more information or go to www.hcad.org.